Neck Pain Specialists OKC
Sick of suffering from neck pain? Let us help. Dr. Darryl Robinson and his team of Neck Pain Specialists at OK Pain Doc, OKC, pride themselves in taking a holistic approach to diagnosing and treating spine and neck pain. Our specialty is using Non-Surgical Treatments designed with the individual in mind.
Conditions related to neck pain are highly common, and they affect individuals of all ages and genders. These conditions can have a wide range of potential causes, each coming with their own set of problems. Fortunately, your friends here at the office of Dr. Darryl Robinson at OK Pain Doc in OKC, Oklahoma will utilize innovative and integrative neck pain treatment methods with the power to reduce pain, maximize mobility, and enhance overall wellness with no need for surgical intervention.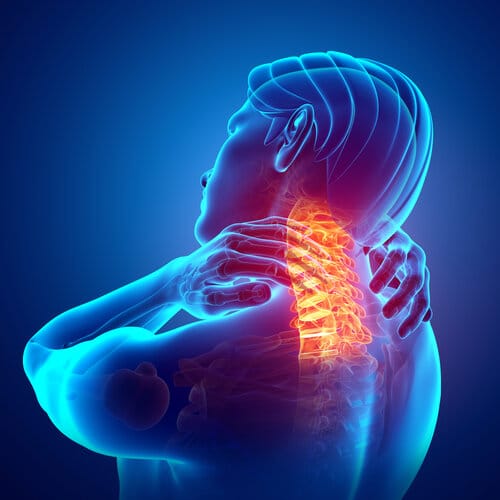 What are some neck pain conditions and treatments?
Our advanced pain management techniques in OKC treat the following neck conditions:
Neck Pain & Injury – General neck pain conditions
Cervical Disk Herniation – Ruptured disks in the upper back and neck
Cervical Sprain & Strain – Injury of the cervical (upper) vertebrae
Osteoarthritis – A common disease that depletes joint cartilage
Degenerative Disk Disease – Loss of cushioning between vertebrae
Muscle Spasm – Involuntary contraction of the muscle
Cervical Radiculopathy – Damage or inflammation of a nerve root in the upper spine
NOTE: This list is a representation of the most common back and spine conditions we treat. If you believe your condition is not listed, contact us at OK Pain Doc in OKC, Oklahoma to learn how we can help.
Contact OK Pain Doc in OKC For Neck Pain Treatment
If you are looking for neck pain treatment and management experts, it would be our pleasure to help you. We are Oklahoma Pain Doc, and it would be our pleasure to help you address various conditions. Undoubtedly, it can be frustrating when you experience chronic neck pain, and we will adhere to your needs by creating a comprehensive treatment plan. Our team here in OKC, Oklahoma, aims to facilitate your recovery, which is why our treatment plans are customized to meet your needs. Contact us today to schedule an appointment, and let us help you recover from neck pain.