Elbow, Hand, and Wrist Pain Treatment OKC
Is acute or chronic pain impacting your daily life? Let us lend a hand! If you are one of the millions of Americans struggling with recurring pain in the hand, wrist, or elbow, then you are likely aware of the substantial impact these conditions can have on your well-being and ability to perform simple daily tasks. Because these regions of the body are particularly fragile and susceptible to damage, they tend to be common problem areas for just about every age group and field of work.
Dr. Darryl D. Robinson his team of pain management specialists at OK Pain Doc, OKC, Oklahoma are exceptionally experienced in the diagnosis and comprehensive custom treatment of a vast range of elbow, hand, and wrist conditions. We work with you to formulate a fully-personalized treatment plan to maximize your overall mobility, comfort, and overall health.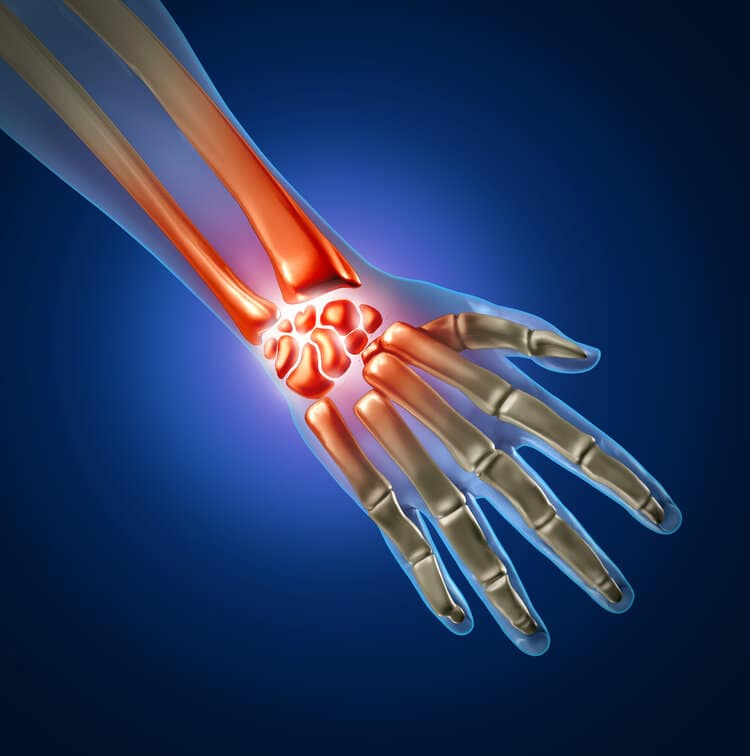 What are common conditions related to elbow, wrist, and hand pain?
We use our state-of-the-art pain management techniques to treat common elbow, hand, & wrist conditions such as the following:
Tennis Elbow (Lateral Epicondylitis) – Pain in the outer elbow caused by repetitive motions of the arm & wrist, which puts excess strain on the tissue connecting the elbow & forearm muscle
Golfer's Elbow (Medial Epicondylitis) – Typically the result of repetitive stress upon the hands and fingers, this condition causes pain & discomfort in the inner elbow region
Elbow Strain/Sprain – Caused by violent wrenching, twisting, or tearing of elbow tissue, sprains and strains often generate pain & swelling in the afflicted elbow
Olecranon Bursitis – Pain, swelling, & redness at the tip of the elbow due to inflammation of the fluid-filled sac known as the bursa
Ulnar Neuropathy – Numbness & tingling caused by damage to the ulnar nerve (one of the arm's three major nerves)
DeQuervain's Tenosynovitis – A painful condition which afflicts the tendons connecting the thumb and wrist, causing tenderness in the wrist & worsened by hand movements
Ganglion Cyst – Benign, noncancerous fluid-filled lumps along the tendons & joints of the wrists & hands which can cause intense discomfort if pressed up against a nerve
Carpal Tunnel Syndrome – Caused by the compression of a major nerve, this highly common condition results in sensations of pain or numbness in the hands & arms
Arthritis (Hand & Wrist) – A common degenerative disease that depletes joint cartilage in the hands & wrists
Sprain & Strain – Caused by violent tearing, wrenching or twisting of joint ligaments; sprains & strains often generate pain & swelling in the afflicted area
Trigger Finger – Discomfort, stiffness, & locking sensations caused by inflammation of one or more tendons in the fingers; the thumb and ring finger are the most commonly affected areas
NOTE: This list is a representation of the most common elbow, hand, & wrist conditions we treat. If you believe your condition is not listed, contact us to learn how we can help.
Elbow, Hand, and Wrist Pain Specialists in OKC, Oklahoma
If you are looking for elbow, hand and wrist pain treatment and management experts, it would be our pleasure to help you. We are Oklahoma Pain Doc, and it would be our pleasure to help you address various conditions. Undoubtedly, it can be frustrating when you experience chronic pain due to elbow, wrist and hand conditions, and we will adhere to your needs by creating a comprehensive treatment plan. Our team here in OKC, Oklahoma, aims to facilitate your recovery, which is why our treatment plans are customized to meet your needs. Contact us today to schedule an appointment, and let us help you recover.