Knee Pain Management OKC
Millions of individuals across the U.S. struggle with knee-related pain conditions, each experiencing their own set of symptoms and ailments. Knee conditions are known to affect patients of all ages and can be traced back to a variety causes like sports injuries, workplace injuries, wear-and-tear from excessive use, or degenerative disease.
Although knee-related pain conditions have the potential to be quite serious, surgery does not have to be your only option. Dr. Darryl D. Robinson and his team of elite Knee Pain Specialists offer minimally-invasive treatment and knee pain management methods with the power to restore joint function, reduce pain, and maximize overall health.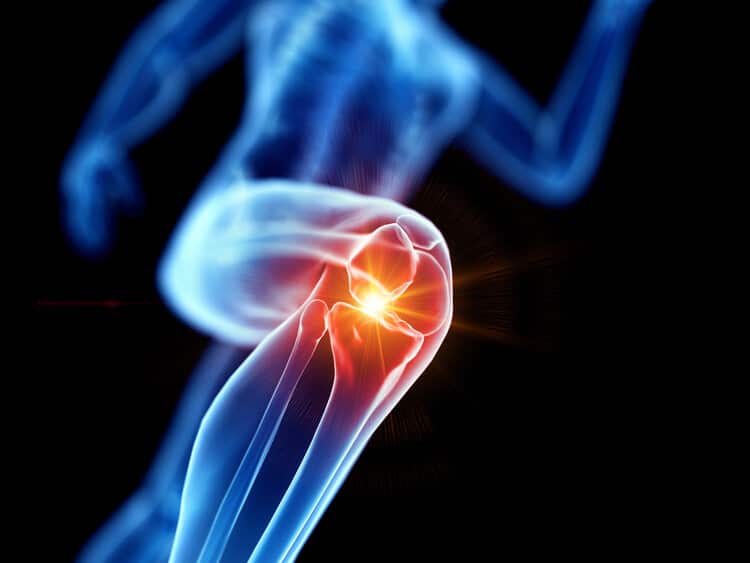 What are some common knee pain conditions and symptoms?
Our advanced pain management techniques treat the following knee conditions and symptoms:
Meniscus Tear – A highly common injury caused by excessive rotation of the knee, causing damage to the protective cartilage between the shin and thigh bones
ACL & PCL Tear/Sprain – A tearing or spraining of one or both of these essential ligaments, often brought on by a sports-related incident
MCL & LCL Tear/Sprain – Damage afflicted upon one or both of these essential ligaments, causing swelling and lack of stability in the knee
Patellofemoral Pain Syndrome – This condition occurs when the cartilage beneath the kneecap is damaged to to injury or exhaustion
Patellar Tendonitis – A common condition in which the tendon connecting the kneecap to the shinbone becomes inflamed or injured
Knee Bursitis – Inflammation of the tiny fluid-filled sac beneath the knee joint (the bursa) located directly below the knee joint
Tendinitis – Swelling of a tendon due to overuse or injury, often caused by a sports-related incident
Ilitibial Band Syndrome – Pain and tenderness within the connective tissues along the outer part of the knee and thigh, typically caused by overuse
Chrondromalacia Patella – Also referred to as "runner's knee," this condition occurs when the cartilage beneath the kneecap softens and wears away
Arthritis – A common degenerative disease that erodes joint cartilage
Osteoarthritis – A widespread condition among Americans that occurs when the flexible tissue at the ends of bones wears down. Symptoms include joint pain, stiffness and more.
Achilles Tendonitis – Injury of the Achilles tendon (located between the calf and heel), causing pain and inflammation
Shin Splints – A highly common condition characterized by pain within the muscles, tendons, and bone tissue along the shin
NOTE: This list is a representation of the most common back and spine conditions we treat. If you believe your condition is not listed, contact us to learn how we can help.
Contact Knee Pain Speialists in OKC
If you believe you need treatment for your knee pain and conditions, contact OK Pain Doc and schedule a check-up appointment. Our doctors will provide you with a treatment plan based on your diagnosis.