Darryl D. Robinson, MD
Medical Director
Board Certification: American Academy of Anti-Aging Medicine
Board Certification: American Board of Physical Medicine and Rehabilitation with a subspecialty in Pain Medicine
Fellowship: Baylor University Medical Center, Texas
Fellowship: St. Anthony Hospital, Oklahoma
Residency: Carolina's Medical Center, North Carolina
Internship: Walter Reed Army Medical Center, Washington, D.C.
Medical School: Medical College of Virginia
Dr. Darryl D. Robinson was born and raised in Richmond, Virginia. He obtained his undergraduate degree from Howard University in Washington, D.C., where he graduated Phi Beta Kappa and magna cum laude in 1991. He then went on to the Medical College of Virginia in Richmond, where he earned both the Alumni and Health Professional Scholarships, graduating in 1995.
In 1995, Dr. Robinson was commissioned as a captain into the United States Army and completed an Internship at Walter Reed Army Medical Center in 1996. From 1996 through 1998 he worked as a General Medical Officer at Winn Army Community Hospital, Fort Stewart, Georgia. He resigned his active-duty commission in 1998 and continued in the individual ready reserves through 2004.
Dr. Robinson completed a Residency in Physical Medicine and Rehabilitation at Carolinas Medical Center, Charlotte, North Carolina, in 2001. From 2001 through 2002, he completed a subspecialty Fellowship in Pain Medicine via Baylor University – Saint Anthony North Ambulatory Surgery Center, Oklahoma City, Oklahoma.
Dr. Robinson became a member of Oklahoma Sports Science and Orthopedics in 2002 and is board-certified by the American Board of Physical Medicine and Rehabilitation with a subspecialty in Pain Medicine.
After more than a decade of providing comprehensive, state-of-the-art treatment for pain syndromes, Dr. Robinson in 2012 was acknowledged by Castle Connolly as one of the region's top physicians. One thing that has become apparent is that pain programs that rely primarily on conventional pharmaceutical medications are limited. For this reason, Dr. Robinson began to search for treatment alternatives that would expand his comprehensive approach and improve clinical outcomes. This approach focuses on optimizing the body's natural functional and restorative capacity via the tenants of nutrition, hormone optimization and wellness.
In pursuit of the most heavily researched and vetted approaches, he became a Certified Fellow and board-certified by the American Academy of Anti-Aging Medicine. These concepts have served as his inspiration as medical director of his own Practice. In 2012, Dr. Robinson was also selected into the inaugural class of "Pink Tie Guys" by the Susan G. Komen affiliate in Central and Western Oklahoma to serve as an ambassador for women's health in the fight against breast cancer.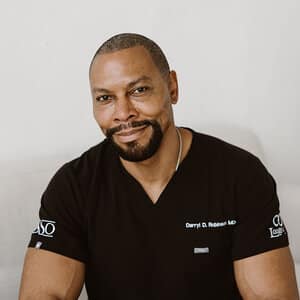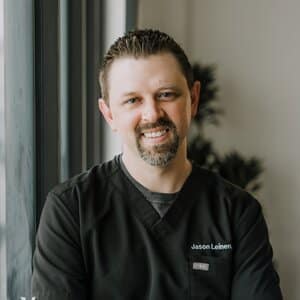 Jason Leinen, MD, ATC
Board Certification: American Board of Family Medicine with added qualifications in Sports Medicine, Certified Athletic Trainer by the National Athletic Training Board of Certification
Fellowship: Sports Medicine – University of Oklahoma
Residency: University of Oklahoma
Medical School: University of Oklahoma College of Medicine
Dr. Jason Leinen provides complete family medicine and sports medicine care. He is double board-certified and can provide athletes with complete pre- and post-injury consultation and assessment. Dr. Leinen is also Oklahoma City's only Certified ImPACT Concussion Management physician.
Dr. Leinen has a heart for medical missions where he's active in the pursuit of humanitarian aid. He has traveled to Guatemala, Peru, Ecuador and Haiti in his mission to provide medical care to those in need. He's a committed family man where his wife, Julia, and their three children enjoy going to Thunder games and visiting the Myriad Gardens.
During his residency, Dr. Leinen attended a sermon on adoption and felt led to adopt their youngest son from Africa.
Dustin Brooks, PA-C
Certified Physician Assistant
Dustin was born and raised in Norman, Oklahoma. After completing his undergraduate degree at the University of Oklahoma, he went on to continue his career as a Sooner and achieved his Master of Health Sciences from the OU Health Science Center in 2016. Brooks' background in urgent care and Orthopedics has sharpened his impressive skill set as a pain management care provider.
In his free time, Brooks trains and teaches Brazilian Jiu-Jitsu and spending quality time with his 2 pugs. His inspiration for going into patient care came from watching his mother's career as a nurse, as well as receiving excellent care at the emergency room due to a clumsy childhood.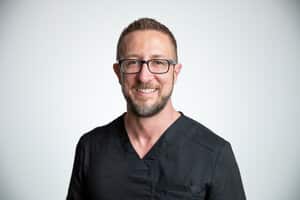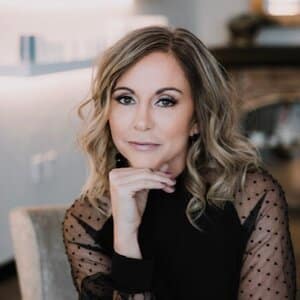 Dena Bradford
Director of Operations
Dena oversees all operational aspects of Doctor Darryl Robinson's office. These include working closely with providers and staff to ensure they have the best training, tools and equipment needed to deliver excellent care. She works with local and national vendors to meet our strategic goals while ensuring we stay true to budget, mission, vision and values.
Dena has a master's degree in health and human services, a bachelor's degree in health care administration and an associate's degree in health information management. Dena's background is in leading high-performing and quality-oriented teams in both hospitals and large physician group practices across the country. She believes balance is key to a healthy life, and in her free time, Dena alternates between teaching meditation and running with her spouse behind two small children and a dog.
Support Staff
Dr. Darryl D. Robinson's medical and support staff is a very diverse team. The staff strives to deliver quality healthcare to each individual patient while creating a comfortable and professional environment for their patients and family members. Each patient is personally greeted with a smile upon arrival, and our medical staff is committed to excellence and building lasting relationships through patient education and trust. Our team is devoted to listening and communicating with their patients to accomplish the patients' overall health goals.
Dr. Robinson's office has the best staff. They always have my paperwork up to date and they help me with all of my questions. You get in to see the doctor really quick. The staff is so nice, respectful and so knowledgeable in their field.
Very good doctor, staff, and PA's. I have been to several pain management doctors over the years traveling all over with the Army before retiring in Okc. I have to say Dr. Robinson and Dustin are my favorite.
I have a degenerative spine and the pain was so bad that I couldn't sleep or stand for any period of time. This office has the pain under control and I am back to working full time. If you think that no one can help you....Dr. Robinson and his staff can!
Very professional, a Fantastic Dr. And staff. They are the greatest, very caring and we are more than a number to them.
Absolutely wonderful staff and physicians. A wonderful experience every visit, and a care plan that has helped me to get my life back.