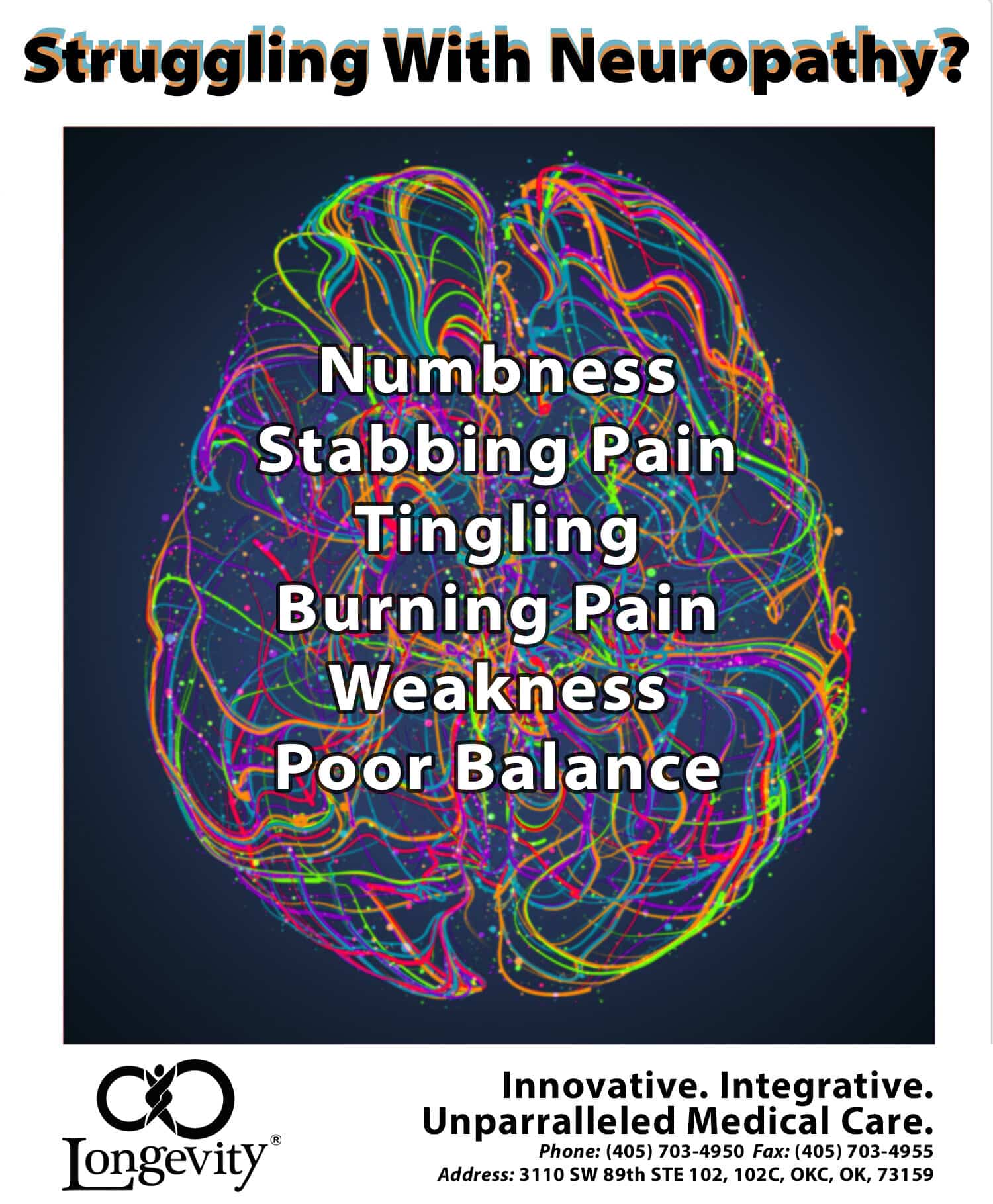 Diabetes is among the most common causes of neuropathy, a highly common but serious condition affecting the nerves outside the central nervous system. This occurs when high glucose levels inflict damage and decay upon your nerves and blood vessels, particularly those belonging to the extremities.
Although most commonly felt in the legs and feet, diabetic neuropathy can manifest virtually anywhere in the body. What makes the condition so sinister is its tendency to intensify over time.
Diabetic neuropathy is very common (roughly 30 percent to 50 percent of individuals with diabetes live with the condition), so it is important to be aware of the warning signs before long-lasting damage can be done. At OK Pain Doc, we have helped many patients in the OKC metro area address these red flags before symptoms could escalate.
Diabetic neuropathy essentially manifests in four different ways, each coming with its own set of dangers. The four major types of diabetic neuropathy are peripheral, autonomic, proximal, and mononeuropathy. Understanding the risks and symptoms of your particular condition is the key to starting your journey to recovery.
Different Types Of Neuropathy:
Peripheral Neuropathy
Peripheral neuropathy is the product of damage and decay to any nerves beyond the central nervous system, which consists of the spinal cord and brain. This is the most common form of neuropathy.
Early Warning Signs And Symptoms of Peripheral Neuropathy Include:
Numbness or loss of feeling

Tingling or burning sensations, particularly in the hands or feet

Sharp and sudden cramps

Heightened sensitivity to touch

Feelings of physical weakness

Decreased reflexes, particularly in the ankles

Impaired balance

Severe bone or joint pain

Ulcers or infections on or near the feet

A bizarre sensation similar to the feeling of wearing gloves or socks, even when the hands and feet are completely bare
Autonomic Neuropathy
The nerves affected by autonomic neuropathy are responsible for involuntary bodily functions such as digestion, perspiration, respiration, and heart rate. If left untreated, this form of neuropathy can lead to severe incontinence, digestive distress, and even malnourishment.
THE SYMPTOMS OF AUTONOMIC NEUROPATHY ARE AS FOLLOWS:
Heartburn and bloating

Nausea and vomiting

Diarrhea and incontinence

Feeling full without being able to finish a meal

Sudden spikes in heart rate

Muscle contractions

Severe sweating

Sexual dysfunction

Slacked and sagging facial muscles

Inability to speak or swallow properly

Hypoglycemic unawareness (inability to notice when blood sugar is low)
Proximal Neuropathy
This type of neuropathy primarily plagues the hips, upper thighs, and buttocks. The symptoms of proximal neuropathy often begin on one side of the body and spread to the other side over time. It is caused by excess levels of fats and sugars in the bloodstream, which injures important nerves as well as the blood vessels that supply them with nutrients.
SOME OF THE WARNING SIGNS OF PROXIMAL NEUROPATHY ARE:
Sudden pains or cramps in the hips, thighs, or buttocks

Feelings of physical weakness

Significantly impaired reflexes

Sudden or unhealthy weight loss

Atrophy of the leg muscles
Mononeuropathy
Mononeuropathy differs from other forms of neuropathy in the sense that it is much more confined, only impacting a single nerve. Though this condition takes place on a much smaller scale than its counterparts, the effects of mononeuropathy should not be underestimated.
THERE ARE SEVERAL DIFFERENT WAYS IN WHICH MONONEUROPATHIES CAN MANIFEST:
Carpal tunnel syndrome (hands and fingers)

Sciatic nerve dysfunction (legs and feet)

Axillary nerve dysfunction (shoulders)

Cranial mononeuropathy (face and head)
SYMPTOMS OF MONONEUROPATHY MAY INCLUDE:
Numbness or total loss of feeling

Paralysis

Tingling or burning pain

Feelings of physical weakness

Muscle spasms and twitches

Impaired reflexes
Prevention and Management
Managing your neuropathy–or preventing it from appearing altogether–can be done most effectively by staying on top of your diabetes management.
An excellent way to avoid the symptoms of neuropathy is to add plenty of B vitamins to your diet. Red meats, fish, and eggs are advised, though dairy should be limited. Doctors also recommend 30 to 60 minutes of exercise per day.
When All Else Fails
Sometimes, the onset of diabetic neuropathy is simply inevitable. Physical therapy and lifestyle management are great tools for combatting symptoms but aren't always enough to keep pain at bay.
In many cases, the debilitating effects of neuropathy leave individuals with no choice but to undergo invasive nerve decompression surgeries. These procedures often lead to weeks of continued discomfort and months of rehabilitation. To make matters more troubling, decompression surgeries rarely provide permanent relief.
Surgery does not have to be your last resort. At OK Pain Doc, we've mastered the art of treating pain-related syndromes with various cutting-edge therapies.
Our therapy harnesses the human body's own restorative properties to activate the healing process and mend damaged nerves and blood vessels. The result is increased mobility and extraordinary pain relief. Once the healing cycle has run its course, you will be able to return to a full and free life without having to worry about the burden of chronic pain.
INTERESTED IN LEARNING MORE ABOUT HOW OUR MEDICINE CAN REDUCE THE EFFECTS OF NEUROPATHY?
CALL 405-703-4950 TODAY TO SCHEDULE YOUR EVALUATION.