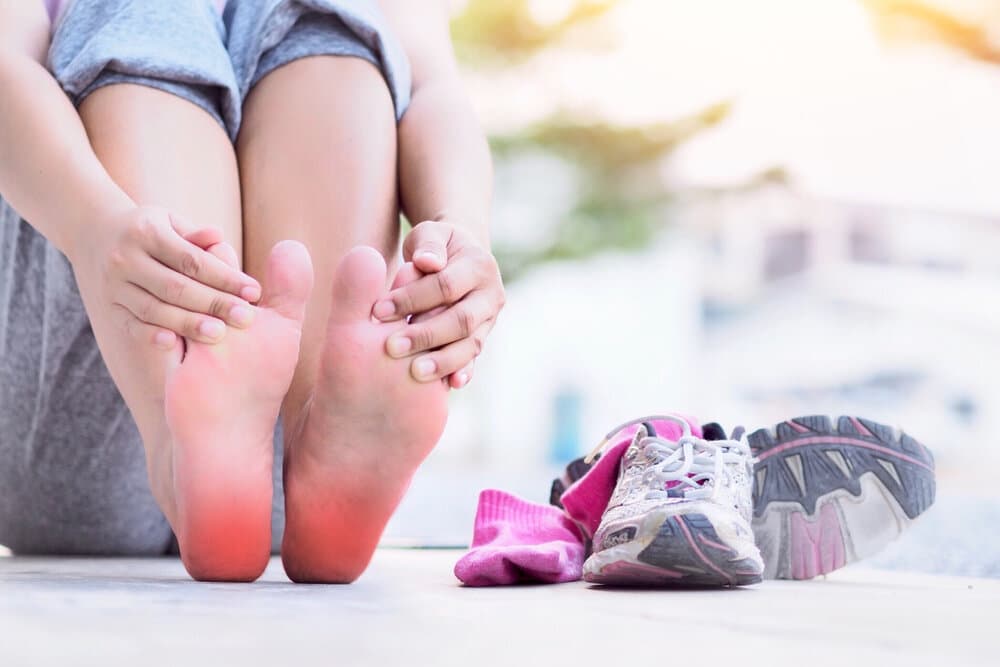 Generally, you may experience inflammation in the plantar fascia due to the overstretching of the plantar fascia and small tears. It is known as Plantar Fasciitis. If you are suffering from osteoarthritis, then you may experience plantar fasciitis too.
The Reasons
You may notice excessive pronation while walking and standing.

If you are suffering from arthritis, you may experience inflammation in the tendons and joints and the situation may lead to plantar fasciitis.

If you walk, run, or stand on hard surfaces for a longer period, you have a greater risk of plantar fasciitis.

If you wear an unfit shoe, then you may experience plantar fasciitis
Symptoms
The most common symptom is that you may experience burning pain on the bottom of the foot. You generally feel the pain in the morning while stretching your foot. Plantar Fasciitis shortens when you sleep and when you stand after you wake up, is it stretched suddenly and caused pain? After some time, the pain can be lessened but it may return when you are exercising or walking or standing.
Treatment to Cure Plantar Fasciitis
Start Treatment Immediately
If you notice the pain for a few days, you should give the feet a rest and do not try to walk on hard surfaces. You should apply an ice pack to the foot after doing exercise for a minimum of 10-15 minutes and take anti-inflammatory medicines if needed.
Wear a Splint or a Foot Brace
According to the American College of Foot and Ankle, surgeons have researched the recovery time of the patients. The research happened between the patients who followed a calf stretching regimen vs the patients who followed a night splint routine. The patients who wore the night splints recovered from the situation within 18 days. The other patients who followed the calf stretching routine recovered within 60 days.
You may stretch a little bit by wearing a foot brace which is very helpful in reducing foot pain. You should wear a splint in shoes during both day and night.
Book an Appointment
If you are suffering from any type of bone problem, including osteoarthritis or may experience symptoms of Plantar Fasciitis, then you should contact the specialists of Oklahoma Pain Doc to experience better treatment as soon as possible. They will guide you to cure the problem at ease in Oklahoma City.
**Disclaimer: This content should not be considered medical advice and does not imply a doctor-patient relationship.